Eau Claire Auto Body Repair
Trubilt Collision Center's skilled staff are happy to take a look at your vehicle to provide you with an estimate to repair damages. Please complete as much of the form as possible to help us in estimating the work needed.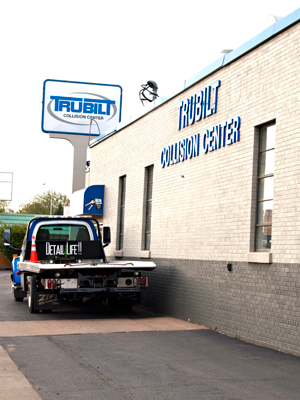 Trubilt
Collision Center
1631 Harding Ave.
Eau Claire, Wi 54703

Phone: 715-834-3504

What Our
Customers Say…
Dear Jerry,
It's extremely rare these days that I get the opportunity to write a letter of appreciation to a business to recognize the outstanding performance of duty that the business has done for me. Today I have that opportunity. Both Gwen and I were very impressed by the kind, compassionate, efficient manner in which you took care of us and our Bravada. We were especially thankful on the day of our accident that you, Jerry, changed your schedule - and that of your wife - to stay with us
until the ride I had expected finally came to pick us up. The Bravada is like new, so we thank all the people in your organization who had a hand in bringing it "back to life." Again thank you, Jerry and all your people for a job well done. Sincerely,
Bill and Gwen H.
Bill and Gwen H.