Our Mission at Trubilt Collision Center
We strive to provide the finest in collision repairs by giving our customers unparalleled service and quality. We provide our employees an innovative facility that fosters personal and professional growth. We strive to be the leader in the Chippewa Valley that other shops try to emulate and we respect and support the community in which we live, work and play.
Accountable • Innovative • Profitable • Selfless • Fun
All team members will be expected to live out our mission statement and core values in their daily attitude, performance and work ethic. We will provide employees with the tools needed to be successful in these actions but team members that do not align with these values will not fit in well within the organization and will likely need to exit on their own or through management assistance.
Meet our Staff
History of Trubilt Collision Center
Trubilt Auto Body was founded in 1949. It began as a small shop with only two repair stalls, but was quickly established as one of the finest shops in the Chippewa Valley.
In 1997 Lynn and Jerry Salter purchased Trubilt Auto Body. The shop is now one of the largest and most reputable in northwestern Wisconsin. We staff, on average, 20 employees while offering 21 repair stalls, two prep booths, one cut-in-booth and one state of the art paint booth.
In the fall of 2010 Trubilt Auto Body changed to Trubilt Collision Center and with that came a new logo. While the logo and look of our name may have changed, the Salters are very committed to maintaining the reputation of top-notch service, quality repairs and great customer relations; this is why Trubilt has been the choice of the Chippewa Valley for over 60 years.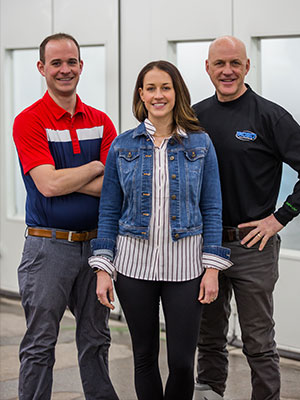 Did You Know?
In Wisconsin, if you're in an accident and have damage to your vehicle, you're only required to get one estimate to provide to your insurance company. Trust Trubilt to be your auto body repair shop!
Schedule an Appointment