Trust Trubilt Collision Center to
Get You Back on the Road
Trubilt Collision Center ensures that you and your vehicle are given our full attention during the auto body repair process.
Our Auto Body Repair Services
Convenient drive in estimating
Trublit Collision Center's damage appraisers are here to help you through the entire repair process. Let us alleviate the stress that can come with an accident and work directly with your insurance company from start to finish.
Vehicle Accident Repairs
Paint Refinishing and Touch-Ups
24/7 Towing
Certified Auto Technicians – ASE, I-Car, Masters School of Auto Body Management
No Cost Pick Up / Drop Off / Delivery
We'll handle the insurance companies and questions
Comfortable, remodeled office and waiting area with coffee, snacks, and a refrigerator
Friendly, qualified staff
Our Repair Process
Here is what you can expect when you bring your vehicle to Trubilt Collision Center for auto body repairs.
Estimating
Administrative

Initial Estimate is written
Approval from the owner and insurance company

Parts/Disassembly

Parts are ordered before vehicle goes into production
Damaged parts are removed and blend panels are dismantled
Technician notes any additional damage and inventories all parts

Repair Planning

The Repair Planning Estimator works directly with the body technicians to identify all damages
Photos are taken to support the hidden damage
Revised estimate is sent to insurance company and customer is updated
Any additional parts are ordered
Auto Body Repairs
Structural/Mechanical Repairs

Structural damaged is first repaired on the frame rack
Alignments are done at this time
Customer is updated

Fix

Repairing dents and scratches
Replacement of damaged parts
Parts are test fitted if needed
(The insurance company is utilizing a used quarter for the vehicle pictured)
Customer is updated

Refinishing/Polishing

Vehicle damaged and replacement panels are refinished
Vehicle is polished to match the original OEM finish

Reassembly

Vehicle parts are reinstalled
The body technician verifies gaps and all body lines
A test drive will verify all mechanical operations are working correctly
Clean Up / Detailing
Detailing

Vehicle is cleaned inside and out
Detail 4 Life® information is applied if customer has qualified for the program Learn More >
Service & Follow Up
Customer Notified

Customer is called to set up a pick up or drop off time
Customer has been updated frequently during the repair process to keep them informed

Customer Satisfaction

Customer Satisfaction letter is sent out
Detail 4 Life® customers are brought back four times a year to reinspect and clean their vehicle
Phone calls are made to follow up with customer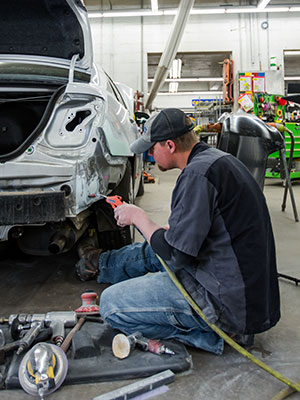 24 HOUR TOWING
Call us anytime
715-834-6617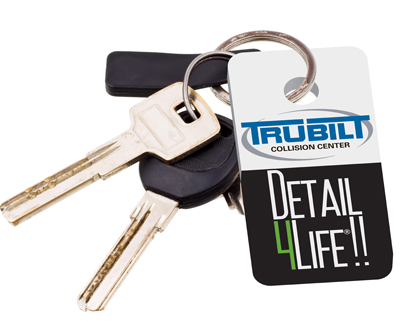 Learn More >
What Our
Customers Say…
Dear Jerry,
It's extremely rare these days that I get the opportunity to write a letter of appreciation to a business to recognize the outstanding performance of duty that the business has done for me. Today I have that opportunity. Both Gwen and I were very impressed by the kind, compassionate, efficient manner in which you took care of us and our Bravada. We were especially thankful on the day of our accident that you, Jerry, changed your schedule - and that of your wife - to stay with us
until the ride I had expected finally came to pick us up. The Bravada is like new, so we thank all the people in your organization who had a hand in bringing it "back to life." Again thank you, Jerry and all your people for a job well done. Sincerely,
Bill and Gwen H.
Bill and Gwen H.