Giving Back "2 The Community"
Trubilt Collision Center is committed to supporting the Eau Claire community. By volunteering, sponsorships, activities, and educational events, we take time to give back to a community who has helped make our business successful.
Local Board of Directors
Hands Across Eau Claire
Hands Across Eau Claire is a public art project sponsored by the Eau Claire Children's Museum. Artists paint fiberglass hands that measure 42" x 20" and then are placed at local businesses and along the streets of Eau Claire. Trubilt proudly donates the clear coat that protects the hands from Wisconsin's elements. It is the same clear coat that we spray on all vehicles that are repaired in our shop and it is safe to say that the Hands Across Eau Claire are well protected!
Eau Claire Chamber of Commerce
Jerry has been actively involved with the Chamber for many years. He is a graduating member of the 2007 Leadership Eau Claire Class and was elected a member of the Chamber Board of Directors in 2008.
In addition to Jerry's involvement, both Luke and Amy are members of the Young Professionals of the Chippewa Valley. YPCV provides different networking opportunities and allows them the opportunity to volunteer within the community. Amy also serves as an Ambassador where the mission is to represent and promote the Chamber and retain Chamber members.
Pink Ribbon Limousine
Trubilt had the opportunity to join forces with a handful of other local business to "build" the pink limousine that you may see at various events around Eau Claire. It is used to support local breast cancer awareness events and in essence serves as a local breast cancer awareness symbol. We are honored that we could be a part of such a meaningful opportunity. Take a look at the website below to view the limousine or to schedule your next event.
Find us at: pinkribbonlimo.com
Sculpture Tour Eau Claire
Sculpture Tour Eau Claire is an exciting interactive free exhibit of 31 sculptures displayed all year long in downtown Eau Claire on Barstow Street and along Whipple Street. The sculptures are owned by the artists, and loaned to the exhibit.
Trubilt is proud to be a sponsor of the event by donating the plaques in front of each sculpture. Our skilled paint team buffs, polishes, paints and put a protective clear coat over the completed plaques.
Find us at: sculpturetour.com
Teen Car Control Class
Mayo Clinic Health System and CVTC have partnered to offer a Teen Car Control Class for teen drivers ages 16-19. Trained professionals will coach teens on how to be safer drivers while having them experience driving situations that frequently cause panic and overcorrection resulting in accidents.
Trubilt is proud to have four employees that serve as trained professionals to accompany the drivers. We also provide a graduation gift to each student.
Find us at: Car Control Website
Chippewa Valley Boy Scouts
The Boy Scouts mission is to provide a meaningful and rewarding scouting experience to the youth of the Chippewa Valley Council, thereby developing future leaders and promoting good citizenship.
Find us at: bsa-cvc.org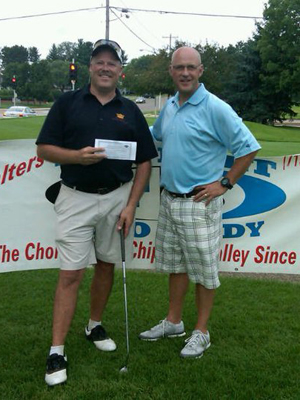 Trust Trubilt
Trubilt is a local, family-owned company, and has been in Eau Claire since 1949. Trust Trubilt with your next auto body repair.
Learn More
What Our
Customers Say…
Dear Jerry,
It's extremely rare these days that I get the opportunity to write a letter of appreciation to a business to recognize the outstanding performance of duty that the business has done for me. Today I have that opportunity. Both Gwen and I were very impressed by the kind, compassionate, efficient manner in which you took care of us and our Bravada. We were especially thankful on the day of our accident that you, Jerry, changed your schedule - and that of your wife - to stay with us
until the ride I had expected finally came to pick us up. The Bravada is like new, so we thank all the people in your organization who had a hand in bringing it "back to life." Again thank you, Jerry and all your people for a job well done. Sincerely,
Bill and Gwen H.
Bill and Gwen H.